Federal Ministry of Planning, Development, and Special Initiatives (PD&SI), Mr. Ahsan Iqbal Chaudhry visited the National Centre of Artificial Intelligence at NUST along with Chairman HEC Dr. Tariq Banuri to appreciate the progress of the center during the past 4 years since its inception. During the visit on 19th April, the honorable Minister was briefed regarding the progress of NCAI which had been inaugurated by him in March 2018 under the Vision 2025 program. The Minister also visited the NCAI labs located at NUST to see various projects and live demonstrations of NCAI products (figure 1,2).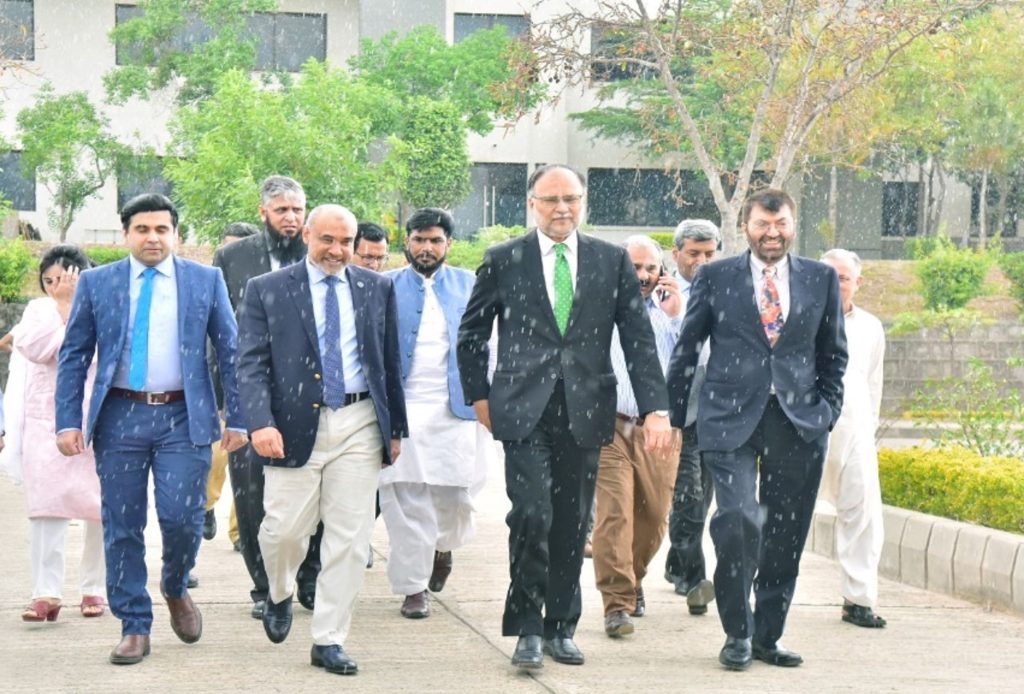 The Minister highly appreciated the AI research and development contributions made by the National Center of Artificial Intelligence (NCAI) in recent years. He admired the center for solving indigenous problems using AI, providing training to produce a highly-skilled workforce, and commercializing the AI-related projects in the industry. He mentioned that, "he foresees the National Center of Artificial Intelligence as an international leader in the field of Artificial Intelligence".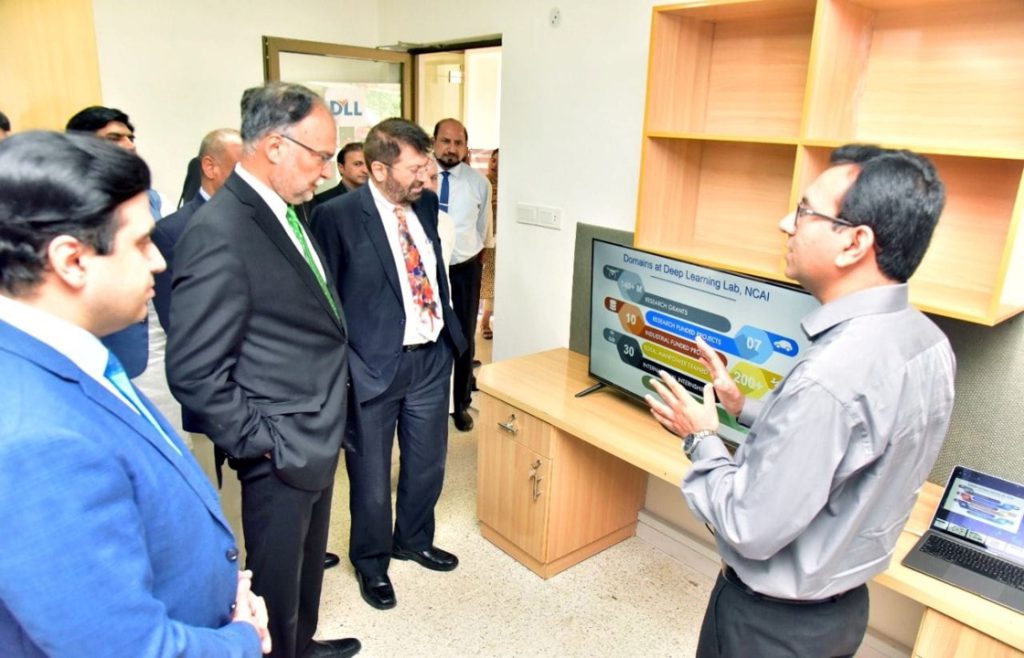 National Center of Artificial Intelligence (NCAI) – The National Hub of AI in Pakistan
NCAI, headquartered at NUST, is the pivotal technological initiative of the Government of Pakistan in the field of artificial intelligence. The center is designed to become the leading hub of innovation, scientific research, knowledge transfer to the local economy, and training in the area of Artificial Intelligence (AI) and its closely affiliated fields.
The center's aim is to facilitate the researchers in the field of AI; help them establish and grow the AI industry following international trends and seek solutions to indigenous problems through AI.
The center is developed on a consortium model consisting of 6 prominent public sector universities NUST Islamabad, COMSATS Islamabad, UET Peshawar, Punjab University Lahore, NED University Karachi, UET Lahore with 9 specialized labs spread across the five major cities of Pakistan and Headquartered in NUST H-12 Islamabad (figure 3).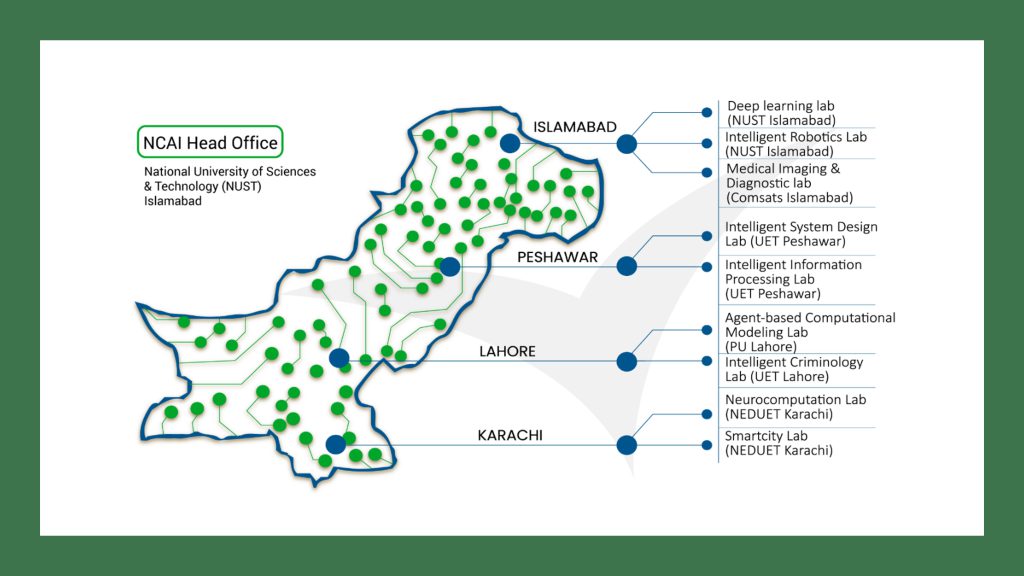 NCAI has conducted research and developed various products by encouraging startup culture and contributing towards excelling at both national and international fronts. NCAI has been playing its part in adding to the global knowledge economy, having hosted over 39 industry events, webinars, and expos on various AI domains/topics and considerable amount of hands-on training sessions, quarterly industry events, utilizing online and in person platforms. NCAI has also developed over 150 research proposals, over 114 prestigious journals and 56 Rank A/B conference papers and 280 indigenous solutions from which startups/spinoffs have also emerged.
Through NCAI Research Fund (RF), projects worth of PKR 152 Million have been awarded to joint industry-academia teams to develop cutting edge AI technology solutions for solving local problems with nationwide impact. In terms of funding NCAI has generated about PKR 566.128 M in a short span of about 3 years which is a landmark achievement.
After the visit, Minister for Planning, Development and Special Initiatives Mr. Ahsan Iqbal held a meeting on 14th May 2022 in Islamabad on Saturday. Central Project Director, National Center of Artificial Intelligence (NCAI) Prof Dr Yasar Ayaz (Pride of Performance) attended the meeting along with representatives from IT Ministry and other industry experts. During the meeting, Minister PD&SI said that Digital revolution has penetrated into every department, creating revolution in across the world. He added that the government has provided special funding through Higher Education Commission (HEC) for the youth and tasked every university to develop incubation centers so that the start-up culture should be developed among the youth to enable them start their own businesses.
The Minister specially appreciated the work being done by National Center of Artificial Intelligence (NCAI) and stated that his visit to NCAI as his first official commitment after taking oath as Federal Minister PD&SI was intended to give the nation a message that there is a dire need for advanced technology adoption and start up culture needs to be introduced in Pakistan to set the right economic direction.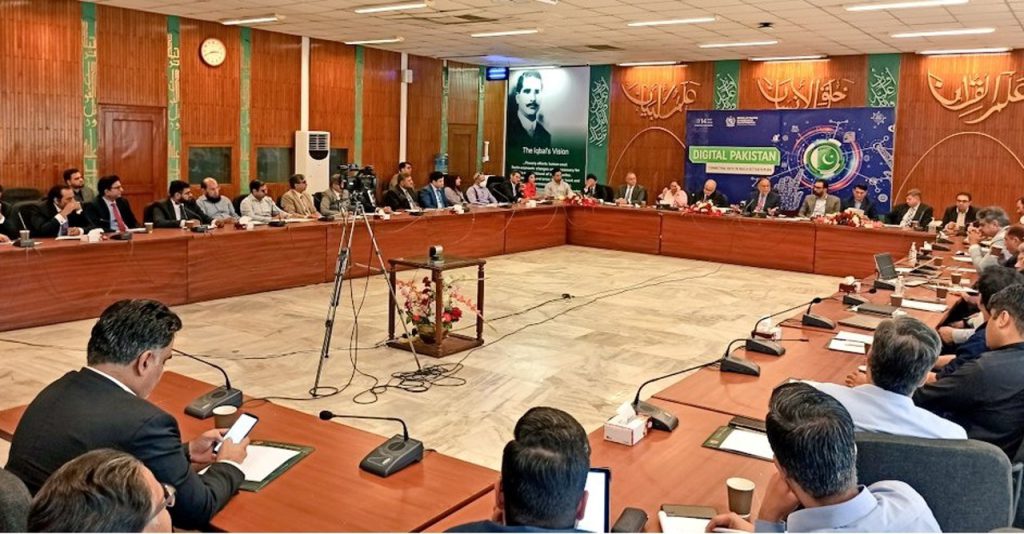 While talking to the media, he stressed the relevance of Artificial Intelligence in current Knowledge-based Economies and urged young people to pursue research and education in the domains of AI and Robotics. He highly appreciated the cutting-edge AI research and development solutions made by the National Center of Artificial Intelligence (NCAI) in recent years.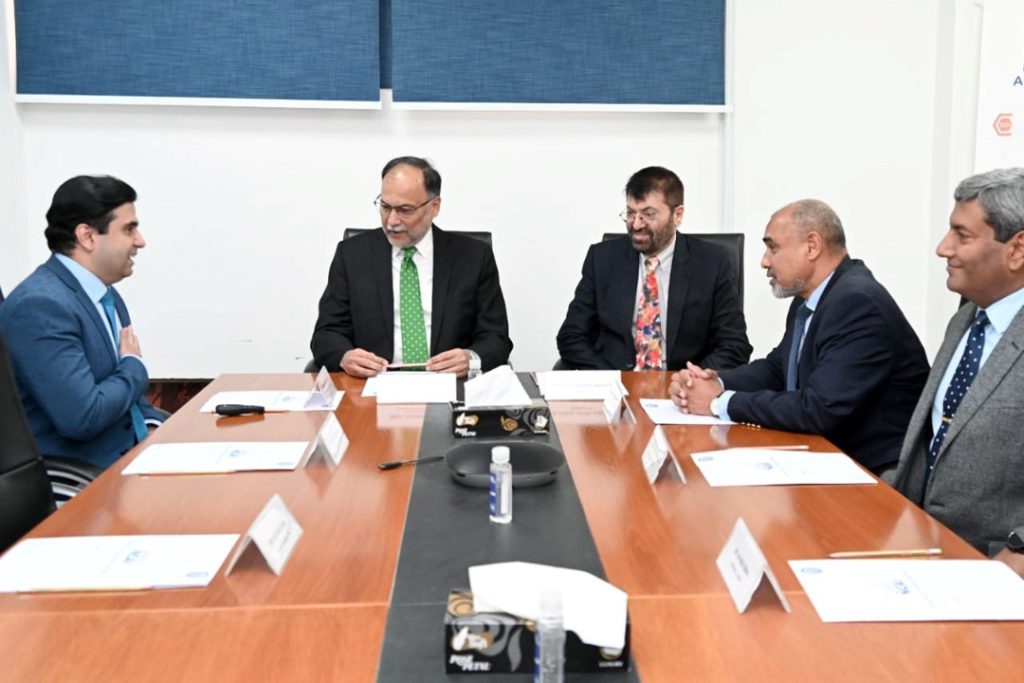 ---
The author is Director, at National Centre of Artificial Intelligence (NCAI), National University of Sciences and Technology (NUST). He can be reached at cpd@ncai.nust.edu.pk.
Researcher's Profile: https://bit.ly/3zmB3Wf